Mohale reveals that he was abused physically and psychologically at the hands of his estranged husband!
Mohale reveals that he was abused physically and psychologically at the hands of his estranged husband!
Reality TV star and actor Mohale Motaung has responded to the statement released by his estranged husband Somizi Mhlongo.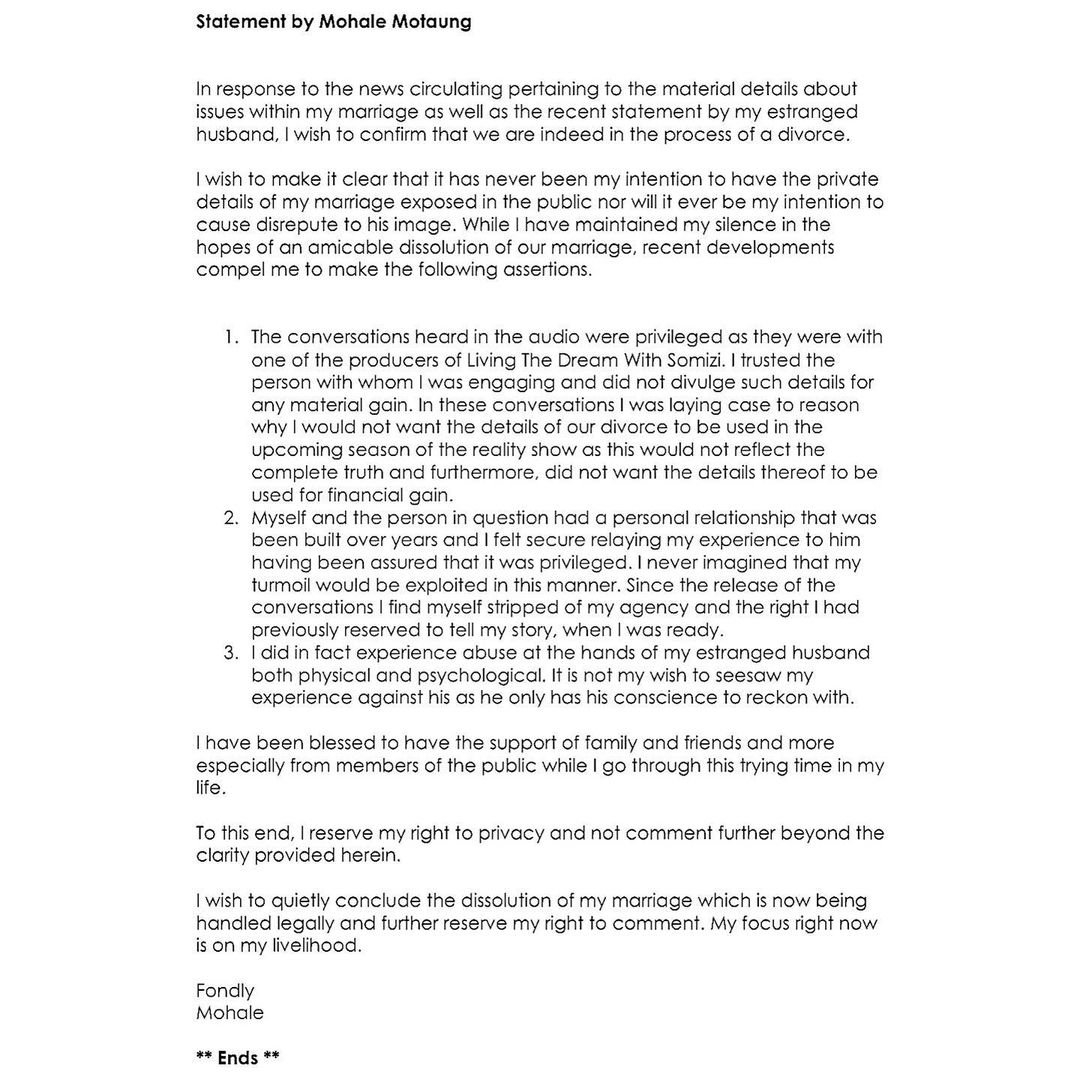 Mohale released a statement today stating that he never intended to have private details of his marriage out in public. He confirmed that he and his husband are in the process of getting a divorce.
The statement read: " I wish to make it clear that it has never been my intention to have the private details of my marriage exposed in the public nor will it ever be my intention to cause disrepute to his image. While I have maintained my silence in the hopes of amicable dissolution of our marriage, recent developments compel me to make the following assertions.
1. "The conversations heard in the audio were privileged as they were with one of the producers of Living The Dream with Somizi. I trusted the person with whom I was engaging and did not divulge such details for any material gain. In these conversations, I was laying case to reason why I would not want the details of our divorce to be used in the upcoming season of the reality show as this would not reflect the complete truth and furthermore, did not want the details thereof to be used for financial gain."
2. "Myself and the person in question had a personal relationship that was built over years and I felt secure relaying my experience to him having been assured that it was privileged. I never imaged that my turmoil would be exploited in this manner. Since the release of the conversations, I find myself stripped of my agency and the right I had previously reserved to tell my story when I was ready."
3. "I did in fact experience abuse at the hands of my estranged husband both physical and psychological. It is not my wish to seesaw my experience against his as he only has his conscience to reckon with."
Mohale said he is grateful for the support that he has been receiving from his family, friends, and members of the public. He said he will not comment further beyond the clarity provided on the statement.
In a statement released by Media Personality Somizi Mhlongo a few days ago, Somizi denied the allegations. He said Mohale is trying to harm his reputation.
"Never in my wildest dreams did I think that one day I would have to defend my honor as a result of someone I have loved so deeply and so genuinely deliberately harming a reputation I've worked so hard to build. For the most parts of my life, I've kept my relationships out of the public eye until my one and only marriage which you witnessed on television and other social media
"It took me this long to arrive at a stage where I could make the conscious decision to share my life traditionally and lawfully with someone and that should explain the level of depth of my love for that person and commitment to that person. It is incredibly painful that what I thought would be a beautiful new normal for the rest of my life with the love of my life, is no longer what will happen.
Read Next: Duncan Issues An Apology