Another 17 Suspected Illegal Miners Loitering Around Krugersdorp Arrested by Police
Another 17 Suspected Illegal Miners Loitering Around Krugersdorp Arrested by Police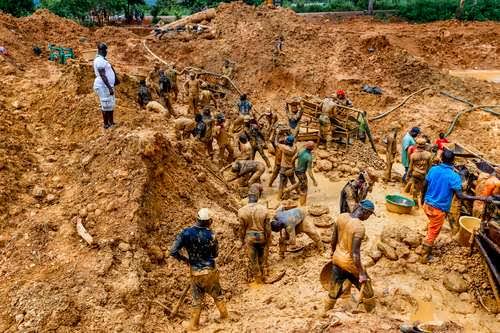 The people of South Africa are currently in a state of tears following the tragic incident of rape that happened in Krugersdorp yesterday. We would recall that about 8 South African girls were raped yesterday by suspected illegal miners bearing arms.
The young girls between the ages of 18 to 35 visited Krugersdorp for a video shoot in one of the abandoned old mining site in the area where they were subsequently confronted by the hoodlums who dispossessed them of their valuables and also took canal knowledge of them.
In a recent development, the South African police has been on the trail to apprehend the suspects who committed this dastardly act. The operatives succeeded in arresting 67 suspects yesterday around Krugersdorp.
Emerging report confirm that police has further arrested another set of seventeen persons loitering within the mountains around the mining area. The suspects include; 4 Zimbabweans, 7 Mozambicans, 1 Malawian and 1 Cameronean.
The suspects were arrested earlier this morning after residents of the area beckoned on police over the suspicious activities of the arrested persons within the area.
Police said they are many other persons roaming round the mountain area in Krugersdorp and they are doing everything within their power to recapture the area from the control of these hoodlums.
Source: https://twitter.com/BizGuru4/status/1553314456599511040?t=xdwl4Mf_dJbjVkadeENqcQ&s=19
Kindly Drop Your Comments Down Below and Don't Forget to Like, Share and Follow Me.
Content created and supplied by: Jabulani@info (via Opera News )