Three Killed in horror crash after stopping to change a tyre: SO SAD
Three Killed in horror crash after stopping to change a tyre: SO SAD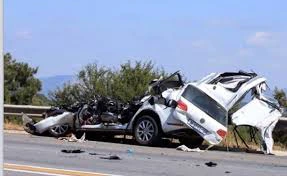 After stopping to change a tire, a horrifying accident occurred, which claimed the lives of three people.
While three men were working to change a tire, a Ford Ranger drove up and hit them. All three of the men died at the scene. When the incident occurred, the men were driving in a minibus, and one of the tires on the vehicle became punctured.
The incident took place on Sunday at 18:30 along the D2296 Road, which is located in Mpumalanga and connects the towns of Karino and Kamagugu.
Moeti Mmusi, the spokesperson for the Mpumalanga Department of Community Safety, Security and Liaison, stated that the three individuals were struck by the bakkie.
Mmusi said that all three of the males had passed away at the location of the incident. The driver of the bakkie had suffered serious injuries and had to be sent to a hospital in the area as soon as possible.
An inquiry into the cause of the crash is currently under process.
https://www.news24.com/news24/southafrica/news/breaking-news-live-all-the-latest-news-alerts-from-across-south-africa-with-news24-20220601
Content created and supplied by: TheTabernacle (via Opera News )