This is me Patricia Mashele: Former SAPS whistleblower sends a message 
This is me Patricia Mashele: Former SAPS whistleblower sends a message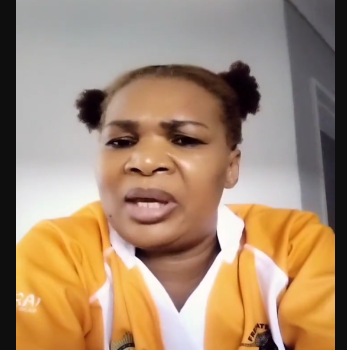 This is me Patricia Mashale
Patricia Mashale
Patricia Mashale has worked in the Free State Police Department's guns, liquor and used goods division for 12 years. She was interviewed by a member of our team in Cape Town, on July 18th 2019.
Mashale stated that numerous high-ranking officials in the industry were unauthorized immigrants who had obtained their jobs via the use of forged passports. "These people did not even have ID books from South Africa. They came from Zimbabwe, Mozambique and other African countries like Ghana and Nigeria."
"I do not know why they hired them because these people cannot even speak proper English! When you ask them for information about their immigration status or criminal record checks they become so angry that sometimes we have to leave our offices before they get mad at us."
Patricia Mashale, a SAPS whistleblower, has petitioned the government for protection. She claims her life is in danger as a result of her 2009 exposé of suspected wrongdoing inside the police criminal intelligence division.
Mashale was reportedly fired as a senior administrator in the Free State last year.
She was fired because she exposed wrongdoing within police ranks – namely that certain members of corruptly held important roles at high levels and were responsible for making decisions affecting others' lives without any form of accountability.
Patricia Mashale is a former SAPS employee who worked in the Free State police department's guns, liquor, and used goods division. She stated that numerous high-ranking officials in the industry were unauthorized immigrants who had obtained their jobs via the use of forged passports.
Mashale explained that she was not involved in any wrongdoing but did report her concerns about her superiors to her immediate boss. He allegedly told her to "keep quiet" and continued to employ foreigners on fake South African IDs despite being aware that they were living here illegally. The whistleblower also claimed that she was fired from the police force after she reported this information to senior management
Patricia Mashale, a former SAPS employee, said that a member of the Human Resource Management (HRM) division has no South African documentation and fraudulent qualifications. She said that the HRM division is responsible for the appointment of all SAPS employees.
"When I was working there, I saw that one of my colleagues was applying for her pension and found out that she had been appointed by someone who does not even have South African documents or qualifications from any tertiary institution," said Mashale.
"I tried to find out why this person had been appointed in spite of having no academic credentials," she added.
Unfortunately, individuals who expose the rot are frequently shielded. If whistleblowers are valuable, their protection should be a top priority. There is a lot of wrongdoing in government, and without whistleblowers, we have no way of finding out.
Whistleblowers should not be punished for exposing corruption; they should be rewarded. This would help deter future misconduct by those in power.
Conclusion
Patricia Mashale is a brave woman who has taken a stand against corruption in South Africa. Her story should be a wake-up call for all of us. We need to stand up for whistleblowers and make sure they're protected, otherwise we'll never know what our leaders are doing behind closed doors.
This is me Patricia Mashale pic.twitter.com/IlgXPMFmg8

— PATRICIA MASHALE (@PATRICIAMASHAL3) November 19, 2022

Content created and supplied by: Topdailygossip (via Opera News )