RIP: EFF Lost a Young Fighter. See What Happened to Her On Her Way Home
RIP: EFF Lost a Young Fighter. See What Happened to Her On Her Way Home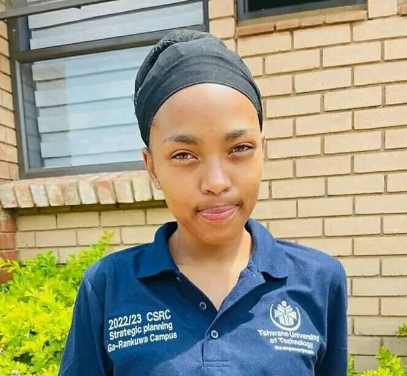 We all love festive season because we get to rest and spend time with our loved ones, however, it seems like nowadays we see more of bad news than good news during this time of the year. From the 1st of December, there has been so many reported fatalities and most of them are caused by gender based violence and road accidents. The reason why there are many road accident on this season is that people be trace from one place to another to spend their holidays there, with that, it result to high traffic rate which pose high accidents rate.
Speaking of accidents, economic freedom fighter student command has just lost kne of the strongest leaders due to car accidents. According to the reports, Thandolwetgu khoza who was a student in TUT and cumpus treasure at Rankuwa Cumpus was involved in a car accident on her way home from school, unfortunately she passed away on the scene. Now that it's festive season students be moving from different schools to home, unfortunately Thando arrived home in casket.
Thando was just 21 years old and she was doing her second level on financial planning, many people who knew her attested that she was one of the most kind hearted people but when it comes to leadership she was very powerful and dedicated. EFF released a statement sending condolences to the family and also close to her, her death left a whole in the hearts of students and also the economic freedom fighter.
To all the people out there, more especially youth, festive season is very dangerous, some people be recklessly driving out there and some drive under the influence of alcohol, we should pray that god protect us throughout our festive season. It seems like the evil spirit is striking over and looking for young blood, there has been so many reported death of young people ever since festive season started. Whenever you go pray that god protect you and keep you alive throughout your ways. May Thendo's soul Rest In Peace, we pray that her family get strength to cope in this difficult times.
Source: https://m.facebook.com/story.php?story_fbid=pfbid0VbsAwVRfjr8RoiTjRE3rF4w3eB6Pz3puxxWfiHwYiddZRmkC4jkvXRL6Jkentm8hl&id=100064500110573
https://m.facebook.com/story.php?story_fbid=pfbid02nMcgENX36sYYkQUAdmrbT6o71VHvavY4PBAPCkK4MGcW4kEQo551zbJBjStMjbt6l&id=100068772278388
Content created and supplied by: Black_Media✅ (via Opera News )