[PICS] Take A Look At King Monada's House
[PICS] Take A Look At King Monada's House
Khutso Steven Kgale, a.k.a, King Monada, is one of those artists who are doing exceptionally well. At only 29, King Monada already owns a fleet of luxury cars, a giant mansion, and even an aircraft!
The Limpopo musician gave us a preview of his mansion when it was still under construction. Then in November 2021, he went on Twitter to flaunt his fully constructed and furnished mansion that left many South Africans, including the likes of Julius Malema and Cassper Nyovest, impressed.
Here are all the details, photos, and videos of King Monada's house.
Where is King Monada's house located?
King Monada's house under construction, source: Facebook
King Monada's house is located in his hometown in Ga-Mokgoloboto Village, in Tzaneen, Mopani district municipality, Limpopo, where he is perceived as a living legend.
The reason for building his house in this village is that it's where he is from, and he wanted his children to live there. The house is near his parents' home so it will allow his family's bond to grow. The village is not connected to electricity but King Monada vowed to ensure that his house had electricity, and he delivered.
Read also: Cassper Nyovest's house
How much did King Monada's house cost?
King Monada posing outside his house, source: Facebook
It is estimated that King Monada's house cost him about R1.5 million to R3 million to construct.
He built his house at a time when a lot of people were struggling to make ends meet because of COVID-19, which only means that he is well-loaded.
Read also: Check out King Monada's car collection.
Cool features in King Monada's house
King Monada's house is a double-storied building with about six bedrooms. In the short video above shared by Mashabela, you can see spacious closets in the bedrooms and magnificently spotless bathrooms complete with bathtubs.
The house's interior is fully furnished with clean white walls, and the floors are covered with white marble tiles. The upper and lower floors are connected by grand staircases, and the rooms are well-lit by high chandeliers.
The exterior of King Monada's house source: Facebook
The exterior of the house is painted in tasteful dark and light shades of grey to go with the grey tiled roof. The house has plenty of large one-way glass windows and doors that provide lots of natural light.
There is an expansive compound that is carpeted with green lawn grass.
King Monada's house also has a spacious garage that accommodates his fleet of luxurious cars, which include a BMW M4 sedan, C63 AMG Merc, CLK 350 Merc, and a Viano Marc.
Read also: Makhadzi's house
Who lives in King Monada's house?
View this post on Instagram

King Monada's wives and children, credit: Facebook
King Monada is a proud polygamist and has two wives. It is reported that he constructed his giant mansion so that he would have enough room for both his first wife Lerato Ramawela and his second wife Cynthia Ntebatse Lion, as well as their children.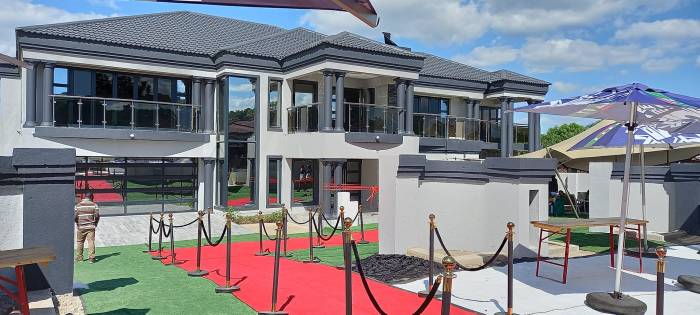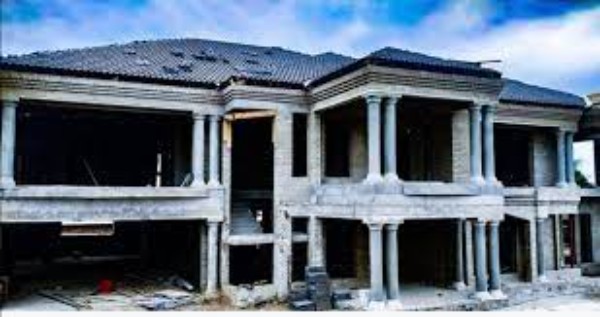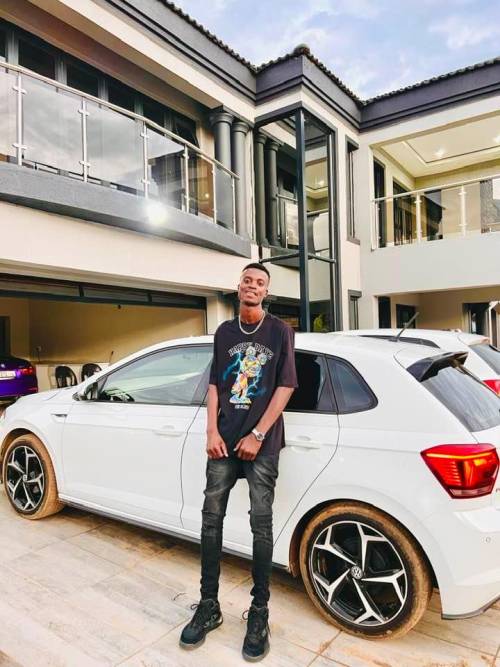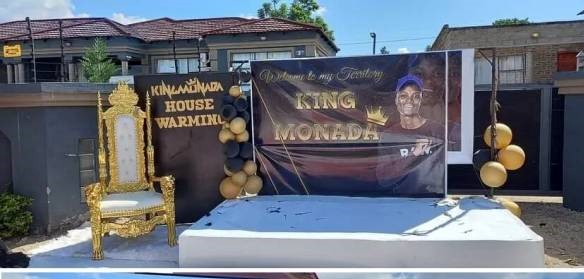 King Monada housewarming party
King Monada's housewarming party, source: Facebook
In early March 2022, King Monada officially opened his new house in a one-of-a-kind, red carpet housewarming party.
Some of the notable guests who were present at the groundbreaking ceremony included comedian Mashabela Galane and actor Clement Maosa.
We wish King Monada and his family all the very best as they start their new lives in their new home.