PHOTO Rasta Has Done It Again See How He Painted Mampintsha At The Memorial Service
PHOTO Rasta Has Done It Again See How He Painted Mampintsha At The Memorial Service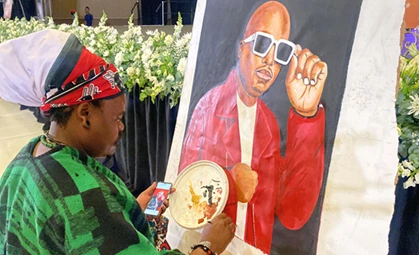 Lebani Sirejenje, popularly known as Rasta. The painter was born in Zimbabwe and is now a resident of South Africa. Rasta began painting at the age of nine in elementary school, and his passion for the art form has only grown since then. He has gained national attention in South Africa for his challenging paintings, particularly those of deceased celebrities.
Mandla 'Mampintsha' Maphumulo's memorial funeral ceremonies took place yesterday on the afternoon at the Inkosi Albert Luthuli International Convention Centre in Durban as friends and family say their final goodbyes. At the funeral service, Rasta opened up a space and began painting Mampintsha's portrait there. Mandla Maphumulo died on Saturday in a hospital after having a small stroke while traveling to a concert in Durban. His life was celebrated at the funeral.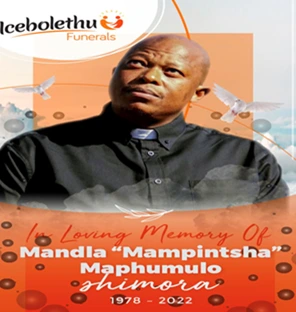 Rasta has painted many fallen celebrities and even political figures, actors, actresses, musicians, presenters etc. including Albertina Sisulu, Joe Mafela, Dumi Masilela, Hugh Masikela, Oliver Mtukutsi, HHP, Mandoza and presenter Akhumzi Jezile just to name a few.
Rasta has been criticised many times for painting portraits of dead celebrities and some of his work gets many twitter user and other social media users angry and lambast him for doing portraits, that most the times doesn't resemble the late figures. Painter Lebani 'Rasta' Sirenje once got a taste of how it feels when someone draws a portrait which looks nothing like you.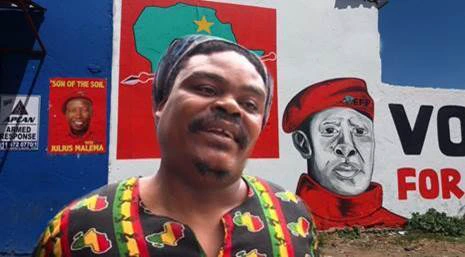 He was then given an opportunity to express himself why he draw wrong image of people, and it reads as "People don't understand the pressure that comes with painting in public, it is not easy. Many people take pictures of my artwork when not even complete and post to social media and make comments on them. Families are shocked when I send the final artwork to see how good it looks." He said that on an interview he did with Move Magazine.
Content created and supplied by: TeeFlaming (via Opera News )