Johannesburg: Another Township SHUTDOWN, See What Foreigners Are Doing 
Johannesburg: Another Township SHUTDOWN, See What Foreigners Are Doing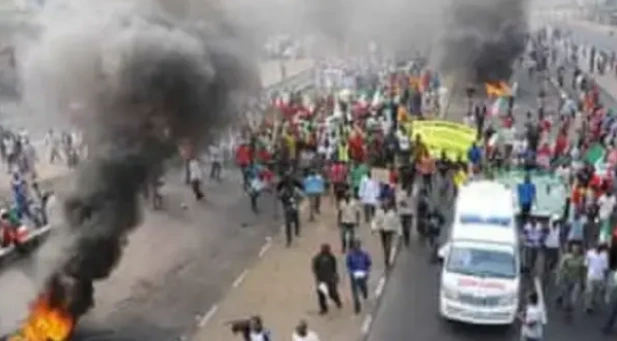 South Africa has always been a peaceful and loving, that's why most foreign nationals likes to reside in mzansi, although not everyone wants to live in South Africa because it's peaceful, some people actually love the country because they believe they are better opportunities in terms of jobs, schools etc in South Africa than other African countries.
Although many South Africa citizens has been fighting against this issue for long, if you can flashback to years ago when the citizens of Mzansi attacked foreigners to leave South Africa, according to them, they believe foreigners are the ones that engage in immoral behaviours such as Killing, stealing, drugs and even rape.
According to a news from different reputable sources, it was reported that some South african citizens went into hunt for foreign illegal minners and they caught some of them, they were stripped naked and beaten mercilessly before handling them over to the police.
This news didn't go down well with most foreigners as they believe South Africa citizens are always accusing foreigners for almost everything that happens in the country.
In a video trending on all social media platforms this morning, we can see big number of foreign blocking the custom officials from doing the clean up campaign in Johannesburg. It was also stated that they are ready to fight if need be.
Photo Used for illustrative purpose only
Many people have reacted to this trending video, some said that the foreigners are being too dramatic, if they can't cope with the treatment they should leave the country, while some supported the foreigners and encouraging them to do more.
What do you think about this article? Share your thoughts and follow for more interesting updates.
Source: Link
Content created and supplied by: 9jainSA (via Opera News )