Breaking: Cyril's 2 Allies 'Fired' From Cabinet
Breaking: Cyril's 2 Allies 'Fired' From Cabinet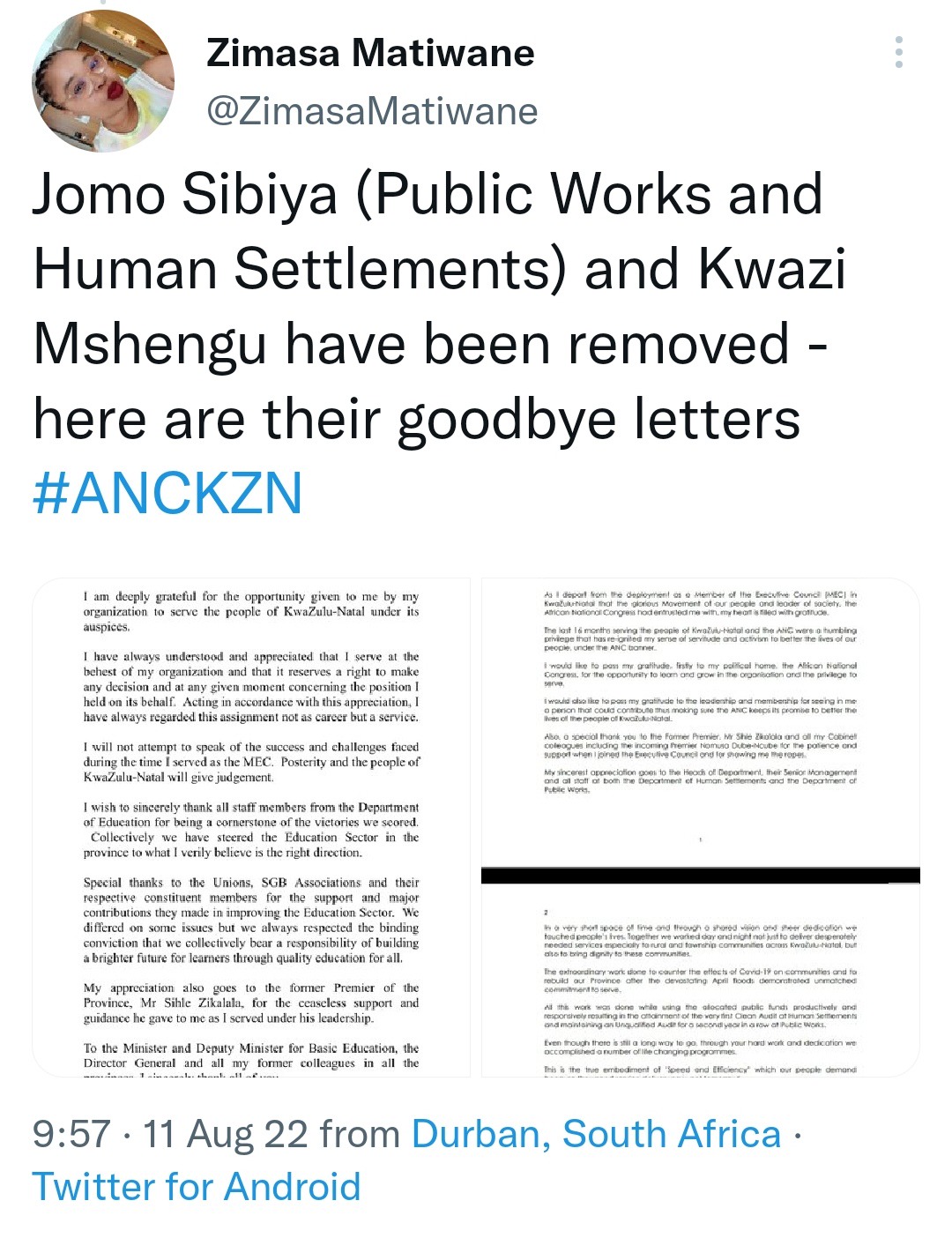 There has been a parotted notion that all political allies of President Cyril Ramaphosa in KwaZulu-Natal who were in cabinet would be purged by the newly-elected ANC KZN leadership, it seems that's currently unfolding.
PHOTO: News24
MEC for Education, Kwazi Mshengu and Human Settlements Jomo Sibiya have both being removed.
This after they were both instructed by the ANC officials that his deployment in government would be withdrawn as newly-elected Premier Nomusa Dube-Ncube is set to announce her new cabinet in the not-so-distant future.
Screenshot: Twitter
Mshengu who appears to be a disciplined cadre only spoke kindly of the ANC, and did not accuse the new leadership of purging, which is exactly the case.
"I have always understood and appreciated that I serve at the behest of my organisation and that it reserves the right any decision at any given moment concerning the position I held on its behalf. Acting in accordance with this appreciation, I have always regarded this assignment not as a career but a service," he said.
PHOTO: News24
Both Mshengu and Sibiya are well-known Ankoles — that is to say they are huge allies of President Ramaphosa — hence they both contested as part of his faction for the deputy chairperson and secretary positions respectively, and lost.
PHOTO: News24
Not that the duo had been doing a terrible job in their respective portfolios, but the kind of politics that that is unfolding in KwaZulu-Natal are typical of the ANC.
It's always anticipated that when ANC leaders lose political power they are left weakened, without a leg to stand on as far as retaining their positions in government, hence they are quickly recalled.
PHOTO: News24 – Jomo Sibiya and Kwazi Mshengu.
One hopes that whoever takes over performs the required work to meet the needs of the people of KwaZulu-Natal, who have had a difficult couple of years blighted by the turmoil of July unrest and floods.
What do you make of this development? Is this a purge by the Taliban faction?
Leave your comments in the comment section below, don't forget to share with your family and friends.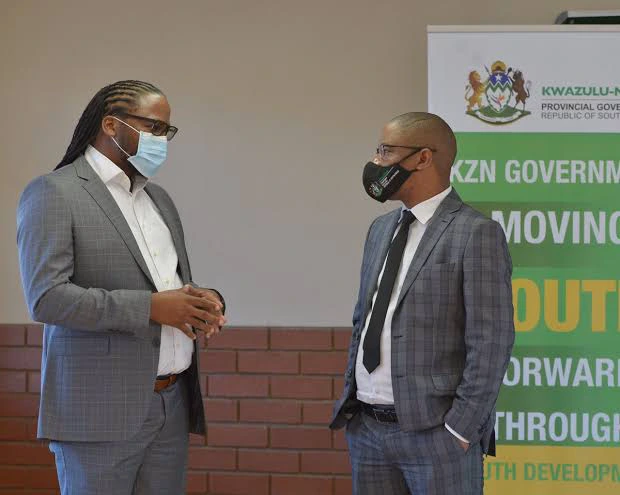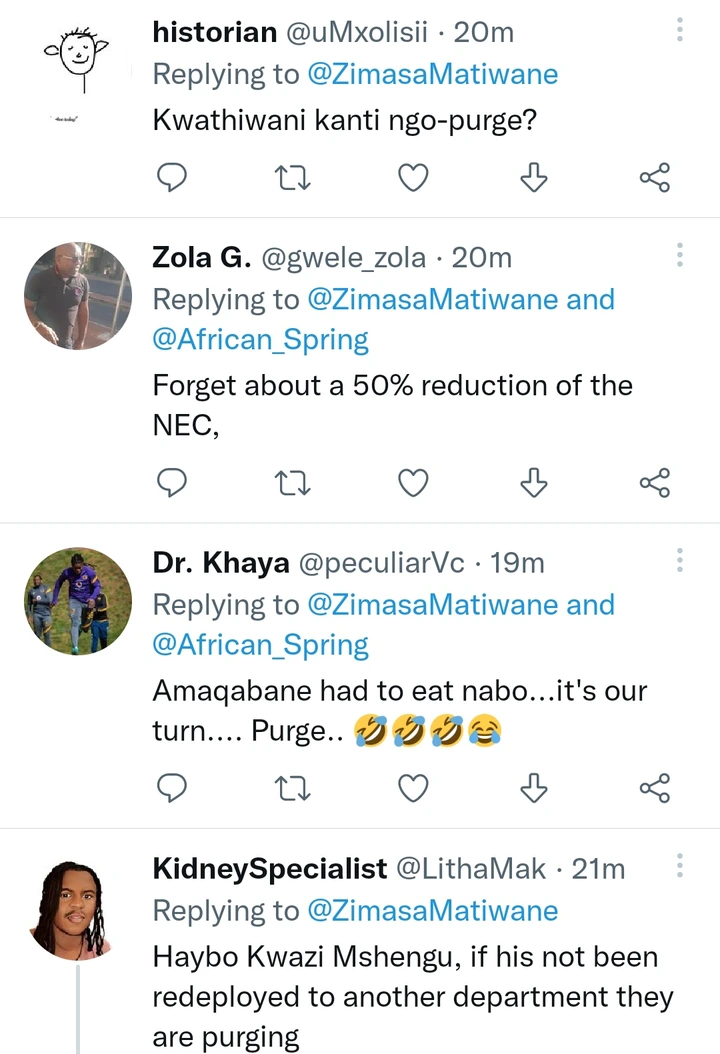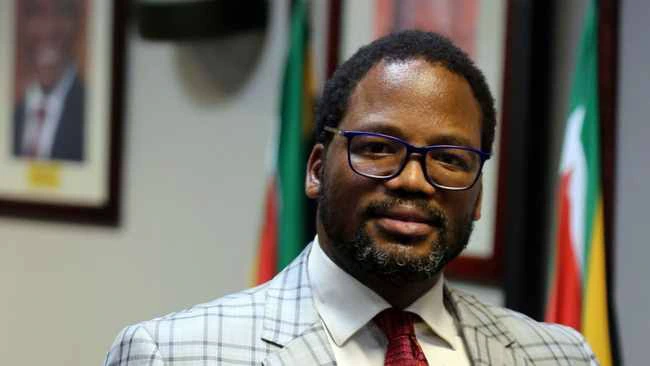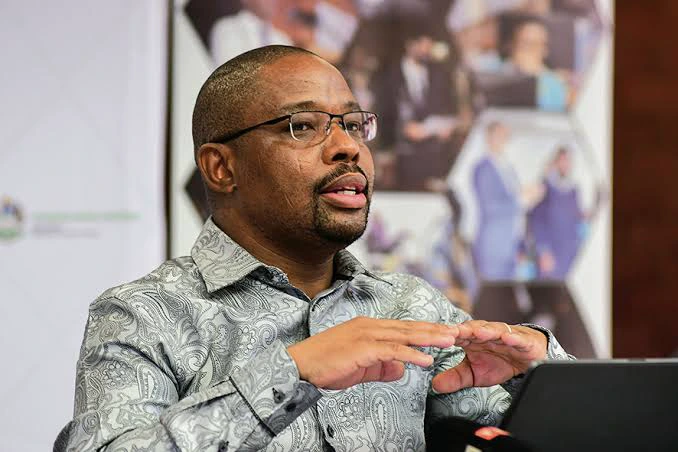 Kindly Like and FOLLOW Us For More Stories.
Source:
Jomo Sibiya (Public Works and Human Settlements) and Kwazi Mshengu have been removed – here are their goodbye letters #ANCKZN pic.twitter.com/QVhgwHjTtE

— Zimasa Matiwane (@ZimasaMatiwane) August 11, 2022
Content created and supplied by: OnlineNewzBible (via Opera News )