Bad News! Zuma Supporters As Doctor Finally Revealed His Current Situation
Bad News! Zuma Supporters As Doctor Finally Revealed His Current Situation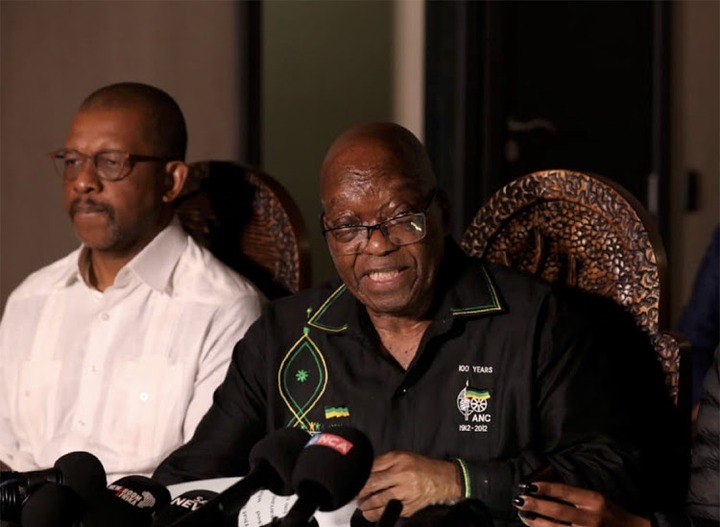 Former President Jacob Zuma was reported to have been released from the Escourt Correctional Services facility where he was serving a 15-month prison sentence and had been hospitalized at a nearby health facility for normal medical examinations.
He has not returned to his jail cell since then, since his health was considered to be under review by specialists. According to News24, which obtained an affidavit from a top military doctor, Zuma had a "traumatic injury" in November 2020 – and it is estimated that he will require another six months to heal.
Doctor Mcebisi Mdutywa filed the affidavit as part of the evidence he submitted to the Pietermaritzburg High Court, where the former President was scheduled to appear today to begin his weapons trade trial.
"As a result of Mr Zuma's medical ailment, which necessitated a lengthy and urgent surgery that was postponed for at least a year and six months owing to his never-ending legal battles, and eventually his imprisonment, his treatment cannot be delayed any longer," Dr Mdutywa stated in his affidavit.
Additionally, he expressed hope that Pietermaritzburg High Court Judge Koen will find it desirable to accommodate this critical health program aimed at correcting the former President's ailment.
However, the National Prosecuting Authority (NPA) is said to have disregarded this rumor, characterizing it as another attempt by Zuma to prolong the case.
Zuma has been accused of using delay tactics in his court proceedings since the outset. He is infamous in the legal world as the master of the Stalingrad technique, which entails dragging every case all the way to the supreme court and back.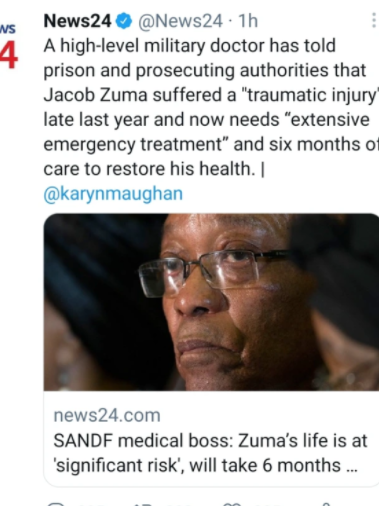 Meanwhile, Zuma is appealing his 15-month prison sentence imposed by the Constitutional Court for contempt of court. His legal representative, the eminent Advocate Dali Mpofu SC, discovered a legal avenue last month to seek reversal of the judgment, and the ruling is expected in the coming days or weeks.
It remains to be seen if Zuma would contemplate applying for medical parole following Dr Mdutywa's admission that he is genuinely suffering from an illness that requires immediate care.
According to the 2002 amendments to the Correctional Services Act, an offender may request for medical parole if his illness is considered severe and he is unable to fulfill his sentence.
As Justice and Correctional Services Minister Ronald Lamola noted following Zuma's imprisonment, the former President is eligible for regular release after serving four months of his term. Following proof that he is now ill, the following are some of the requirements he must satisfy before being granted medical release.
– Evidence that he is suffering from a terminal illness that may make him immobile and impair his capacity to do everyday activities.
– Evidence indicating he is unlikely to conduct another crime.
– Evidence that he will be supervised, cared for, and supported during his parole period.
And, because Zuma is serving a term of less than two years, the head of the correctional facility where he is serving his sentence would be responsible for assessing his application and granting it if satisfied with the reasons presented.
Zuma's Life In 'Danger' | Doctor Finally Revealed His Sickness
Former President Zuma is wished a fast recovery by the OnlineNewzBible.
SOURCE:
A high-level military doctor has told prison and prosecuting authorities that Jacob Zuma suffered a "traumatic injury" late last year and now needs "extensive emergency treatment" and six months of care to restore his health. | @karynmaughan https://t.co/IcdTR22tT0

— News24 (@News24) August 10, 2021
Content created and supplied by: Cool_Dealz (via Opera News )