Operation Dudula Shut Down Laser Park for Hiring Illegal Foreigners
Operation Dudula Shut Down Laser Park for Hiring Illegal Foreigners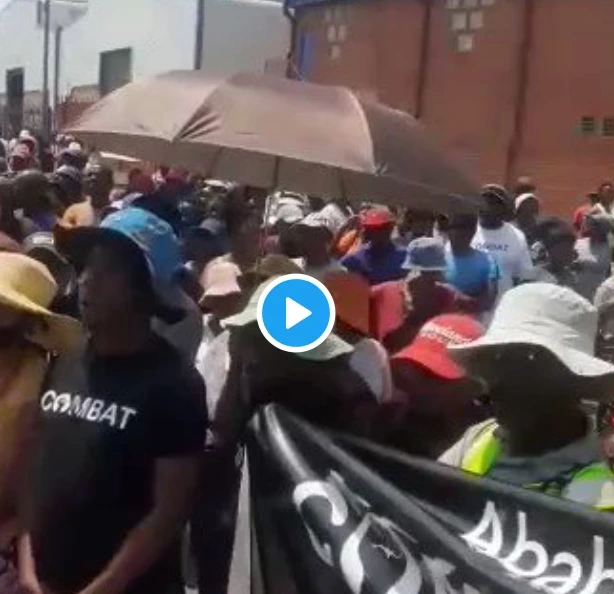 The people of South Africa are no longer waiting for the government to address the issue of illegal immigration for them rather they have risen in their numbers to collectively deal with it because it has contributed immensely to the high level of lawlessness happening all over the country.
We all know that illegal immigration has been a huge problem in South Africa. This act of sabotage is one of the reasons why citizens are unemployed because employers of labour agree to exploit cheap labourers by paying them little wages to do more tedious works.
However, an emerging report says that the members of operation dudula had storm Laser Park yesterday after receiving information about their nefarious activities.
According to a statement released by Combat Movement on Twitter;
"Patriots, Our First operation as Combatants was a success. We shutting down of Laser Park Industrial was successful.Thanks to Home Affairs South Africa for accepting our memo of concerns. Put South Africans First and Operation Dulala we will ensure that illegal foreigners will go. We are not alone in this war.
Combatants were out in numbers. Exploiters were very scared. Combat is for South Africans. We are allergic to lawlessness. South Africans must be appointed. We are not negotiating, We are commanding".
Source: https://twitter.com/Combat_ship/status/1580666690320625664?t=9DyNkm3cqVNVl6ApXcpZFw&s=19
Kindly Drop Your Comments Down Below and Don't Forget to Like, Share and Follow Me.
Content created and supplied by: Jabulani@info (via Opera News )