ANC In Shock As Another Top Member Dies
ANC In Shock As Another Top Member Dies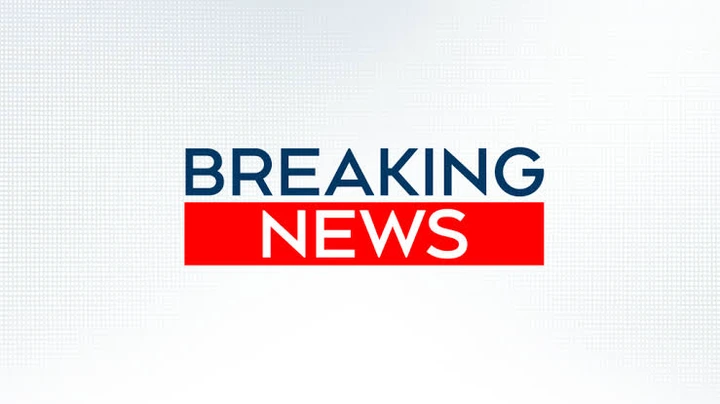 PHOTO: Ctvnews
The cruelty of death is infinite, and of course one way or another, we will all die and have to make that 'proverbial' account to our almighty maker at the day of reckoning. Albeit loss of life is profoundly painful, there is just heightened pain when someone dies young, successful and at the peak of their careers, it excruciatingly painful, for their relatives and the broader country.
This is what has happened to the Sisulu family, after news broke out on Saturday of the untimely and utterly harsh passing of Moyikwa Sisulu. The news was posted on Gauteng Cogta MEC Lebogang Maile's official account.
PHOTO: Twitter
Although the Sisulus have not yet released a statement to communicate the sad news, Maile as a high-profile ANC leader in his own right must have been privy of the information, and he took the opportunity to express his shock and pain at the sudden death of Moyikwa.
Maile waxed lyrical about the significant contribution Moyikwa made in his short life, saying that he was a patriot at heart and his charisma made him distinguishable.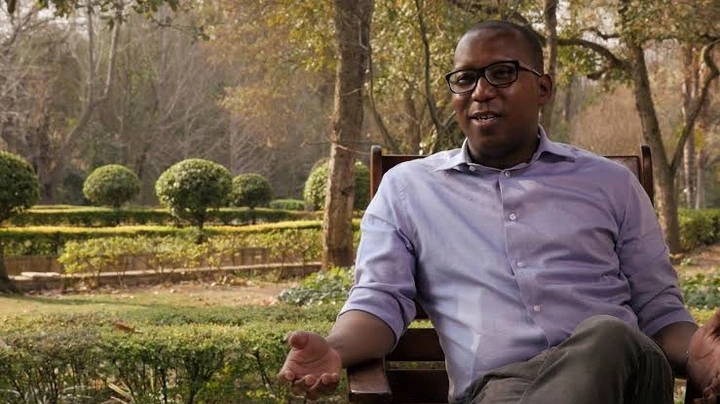 Photo: Twitter, Moyikwa (left), with portraits of Albertina & Lindiwe Sisulu.
"He defined himself as a patriot at heart. A distinguished one at it. Young, vibrant, charismatic, dynamic, smart and humble. He commanded respect from all. Rest in peace Moyikwa. Rest in peace Qabane. My heartfelt condolences to the family and friends," Maile tweeted on his official twitter account on Saturday.
He did not disclose the cause of his death, and neither did the OnlineNewzBible team manage to ascertain as to what may have led to his quick and untimely death.
Screenshot: Twitter
Moyikwa was a nephew of Tourism minister Lindiwe Sisulu and is one of the many grandchildren of the late ANC struggle icon Walter Sisulu. He was an ANC member in his own right as he was born in a high-profile ANC family.
At the time of his death, he was a director at Kudumane Manganese Resources, a mining company operating at the Kudumane mine in Kuruman, Northern Cape. Moyikwa made huge strides in the cooperate world, starting his career at Iron Brew production company which produced shows such as Friends Like These, Khumbulekhaya, Live Amp and many more.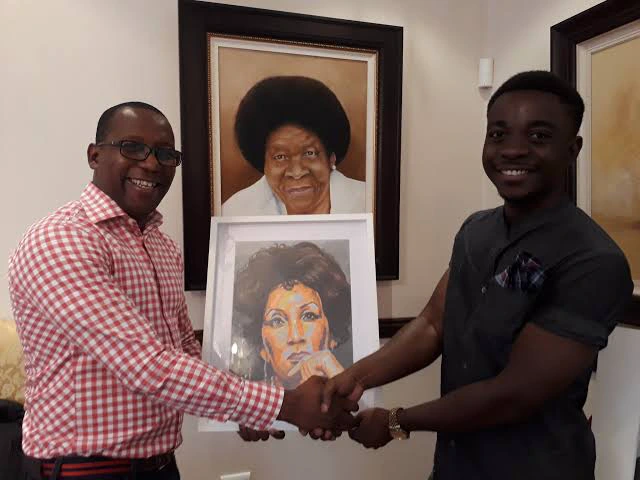 However, with time he ventured into mining and more so as a BEE partner.
Screenshot: Twitter
Despite calling himself an introvert and one who lives far from the public sphere, he was reportedly in trouble with the law for his failure to pay legal fees two law firms for services rendered, earlier this year. According to the Sunday World at the time, Moyikwa was sued to the tune of R2-Million by the two legal firms at the Johannesburg high court. It is unclear how the matter unfolded.
The OnlineNewzBible team sends its most sincere condolences to the Sisulu Family, may his soul repose peacefully.
Leave your condolences in the Comment section below, don't forget to share with your friends and family.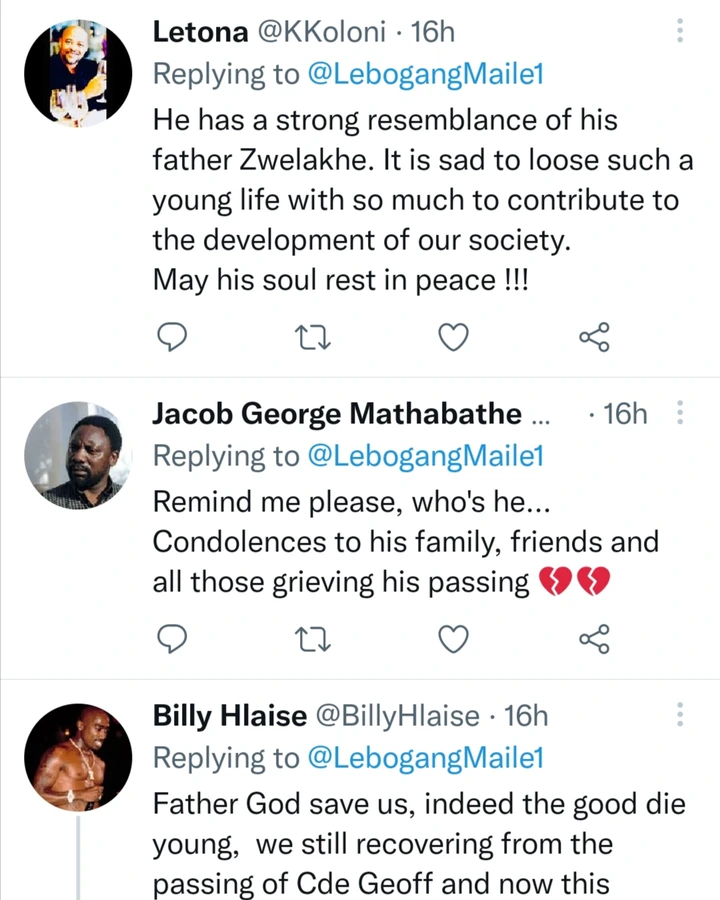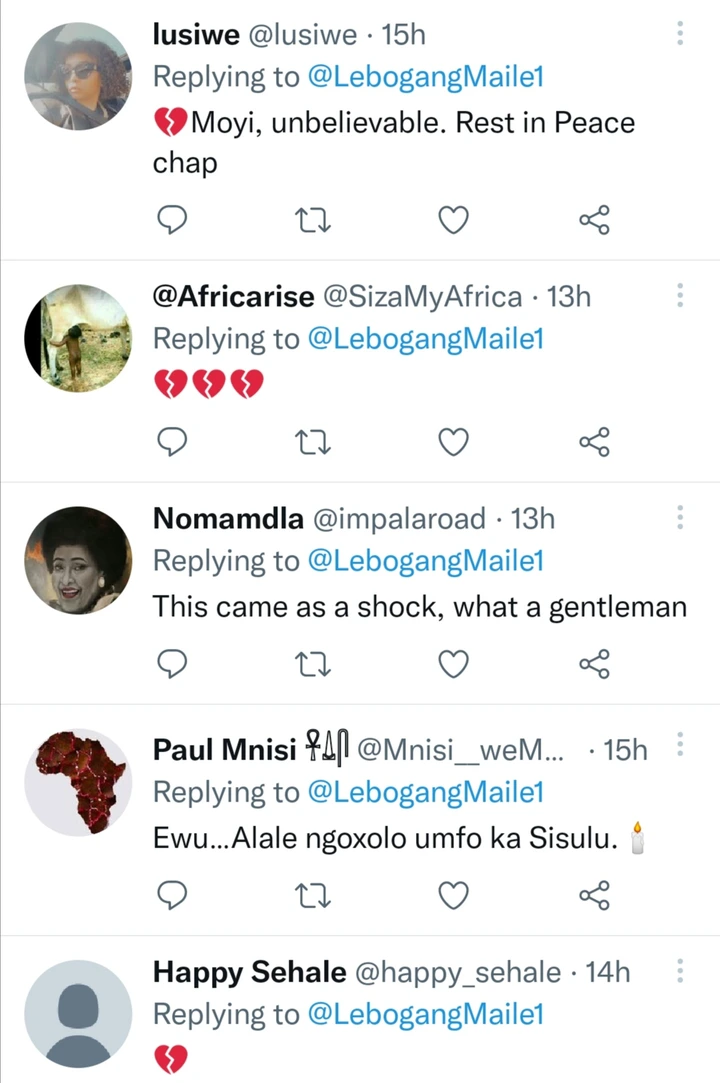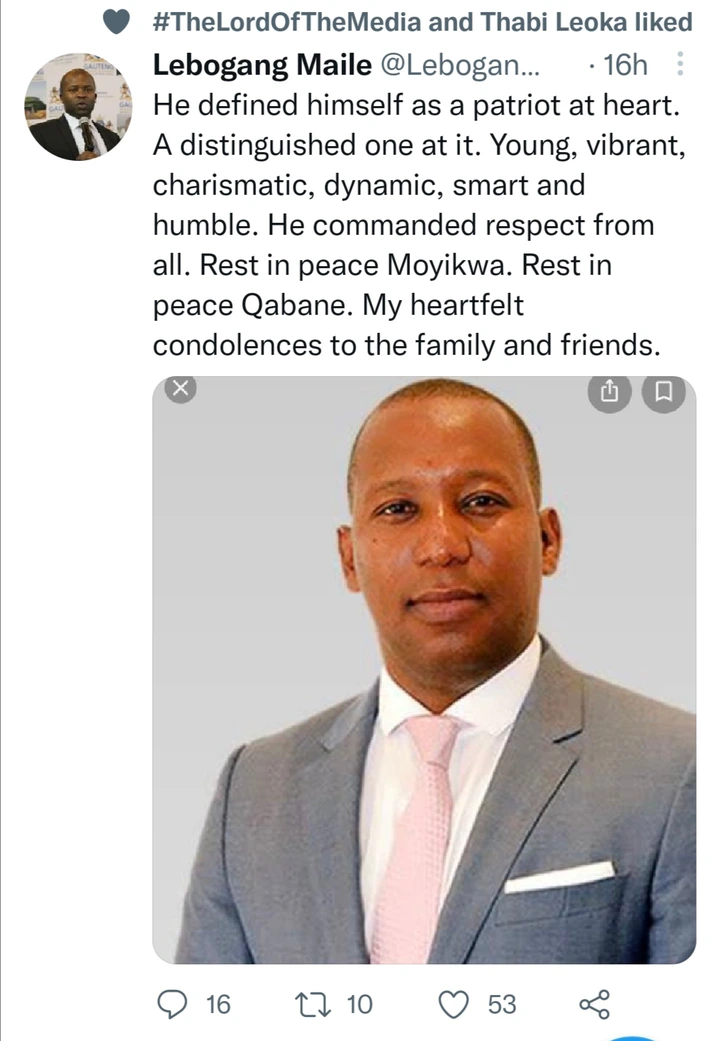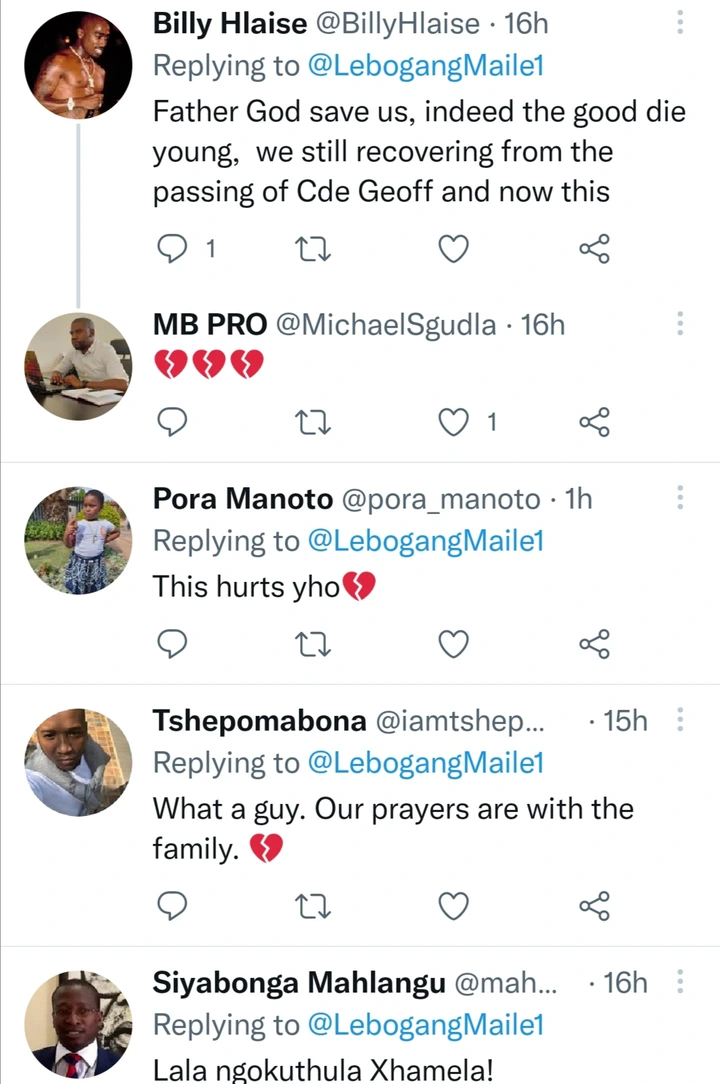 Screenshots Courtesy of Twitter
Kindly FOLLOW Us For More Stories.
Source:
He defined himself as a patriot at heart. A distinguished one at it. Young, vibrant, charismatic, dynamic, smart and humble. He commanded respect from all. Rest in peace Moyikwa. Rest in peace Qabane. My heartfelt condolences to the family and friends. pic.twitter.com/xw9oDxYFHd

— Lebogang Maile (@LebogangMaile1) August 28, 2021
https://www.kmr.co.za/index.php/moyikwa-sisulu
Content created and supplied by: OnlineNewzBible (via Opera News )